Assisted Living Home in Buffalo, NY
At Tennyson Court, we seek to enhance the quality of life and independence of residents of our assisted living facility. We provide assistance and supervision with the activities of daily living, residential care, so that each resident may realize their full potential. Activities of daily living include: bathing, dressing, medication management, toileting, grooming, and hygiene. Our assisted living program provides a host of additional amenities and services to all our residents to make your loved one's stay with us engaging and enjoyable.
---
Services Offered
24/7 Supervision and Care Available
3 Well-Balanced Meals with Choices and Alternatives
Medication Management
Room by Room Laundry Services
Medical Services Available On-Site by Mobile Primary Care
Motivation and Encouragement to Join Activities
Lunch and Shopping Trips
Emergency Call System
Personalized Case Management
Overnight On-Call LPNs
Snacks, Fresh Fruit, Coffee and Tea Always Available
Excellent staffing ratios
Assistance with Hygiene, Grooming, Bathing and Toileting
Weekly Housekeeping
Partner Pharmacy – We Order and Manage Medication Delivery
Wanderguard System
Resident Activities throughout the day and weekends
Onsite Beauty Salon/ Barber Shop
Private and Secured Patios and Courtyards
Personalized Care Plan
---
Our personalized care plans involve our case manager, your loved one, your family and your primary medical doctor. The planning starts at your pre-admission evaluation. Together over the first 30 days of your admission, your care plan is shaped to meet your individual needs. You, your loved one and the case manager meet by the end of the first 30 days to go over the care plan and you or your loved one signs off on the services to be provided. From then on, the plan is under constant evaluation to meet your loved one's ever-changing needs.
Amenities Included AT OUR ASSISTED LIVING FACILITY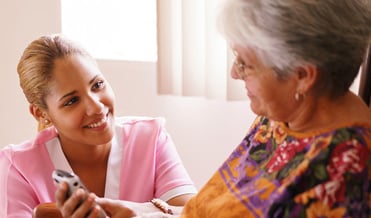 An assisted living facility is for those who require a higher level of care than those in a retirement home, but who can still maintain a great deal of independence while remaining in a supportive and safe environment. At Tennyson Court, we strive to provide the most comfortable living situation for all residents of our assisted living home program. Aside from the above services, those staying with us will also receive access to a transportation system for attending doctors appointments to offices within ten miles of our campus. We also have a monthly activity calendar full of events and programs suited to almost any preference, This includes trips out to lunch, dinner, the casino, and more!
Contact Tennyson Court Today
If you have a loved one who may benefit from residing in an assisted living facility, let us give you a tour of Tennyson Court. We think you'll find our beautiful campus and amazing staff creates a supportive and engaging community. Give us a call or book a tour with us today!

Contact Us