Getzville Area Memory Care Facility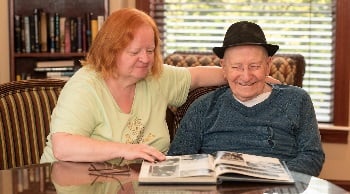 If you're supporting a friend, family member or loved one living with Alzheimer's or dementia, you know the unique challenges that accompany daily memory care. Here at Tennyson Court, we've created a specialized dementia care program that keeps seniors safe and secure, while increasing their quality of life.
Our memory care unit is completed with renovated living spaces and modern resources that help engage our community. We also have highly involved staff that use accredited techniques to encourage and support our seniors. Through memory care, our residents can enjoy more of their life with the warm support they need.
Memory Care Program Features
At Tennyson Court, we understand that people with memory care challenges require extra assistance. That's why we remain highly involved through one-on-one care and low staff-to-resident ratios. Supervision is available 24 hours a day, 7 days a week, and an experienced LPN provides supervision for 16 hours per day. Additional features of our memory care wings are:
In-suite emergency call buttons that keep staff easily in reach
Personalized memory boxes outside rooms to help with identification
Daily activity assistance with bathing, grooming, and personal hygiene care.
Private, secured outdoor spaces that can be enjoyed with family and friends
Delayed egress doors prevent wandering and keep residents safe
DEDICATED DEMENTIA CARE COORDINATOR
Our Oxford, Langley, and Hampton memory care units are closely monitored by our dedicated Dementia Care Coordinator. Each of our residents has a personalized case management plan covering all their needs, which is regularly reviewed each month with our coordinators. Our coordinators can also arrange for optional on-site medical services through Mobile Primary, providing accessible medical care right at our facility. Lastly, medication delivery is possible with our partner pharmacy.
Contact Us Today
To learn more about our wide range of personalized memory care services here at Tennyson Court, contact us today. We're proud to provide high-quality dementia and Alzheimer's care in the Getzville area for families in need.

Contact Us