Find Excellent Assisted Living Care
Close to Tonawanda, NY
There comes a time when your loved one can no longer care for themself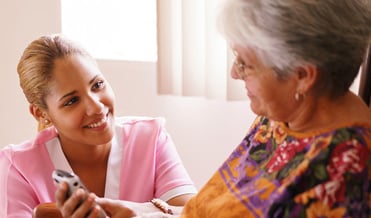 and are in need of extra help in the form of an assisted living facility. It's often a difficult time for families, as it's an important decision to make.
You need to make sure you choose the right facility that meets their needs and will become their new home while remaining close to family in Tonawanda, NY.
Finding the Right Assisted Living Facility for Your Loved One
When finding an assisted living facility it's essential that your loved one will feel at home while getting the care they need, both medically and socially.
At Tennyson Court, located close to Tonawanda, we offer personalized care for every resident. We do this through personal care plans that address their needs, allowing us to monitor any medical conditions and optimize health and wellness.
We also prioritize community to help our facility feel like home. Your family member will be able to socialize with other residents throughout the day, including at meals served three times a day. They'll also have the opportunity to stay mentally and physically active in a variety of fun activities scheduled throughout the month.
What You Can Expect:
An on-site beauty salon and barber shop
Fully stocked pantry with healthy snack options
Always-open fridge featuring an assortment of juices & milk
Local transportation to medical appointments and recreational outings
Fully landscaped private patios
A calendar of activities updated monthly
On-site memory care facility
And much, much more!
With so many amenities included in daily life at Tennyson Court, it's easy to see the benefits of our facility. Care is paramount.
Learn More Today
Contact us to schedule a guided tour of the Tennyson Court Assisted Living Facility that's close to Tonawanda. We'll be able to answer any questions you have and help you determine if this is the right place for your loved one.

SCHEDULE A TOUR