Top Assisted Living Facility
Tennyson Court in Williamsville, NY
Finding the right assisted living home that's close to family and will be equipped to provide the proper care is important. With several options in the Williamsville, NY, area, it's hard to narrow down the options for the right choice.
But with amenities galore, personalized care plans and a dedicated staff, Tennyson Court Assisted Living and Memory Care in Williamsville is the clear front runner.
An Assisted Living Facility Full of Amenities
Here at Tennyson Court, we believe in care that is engaging, respectful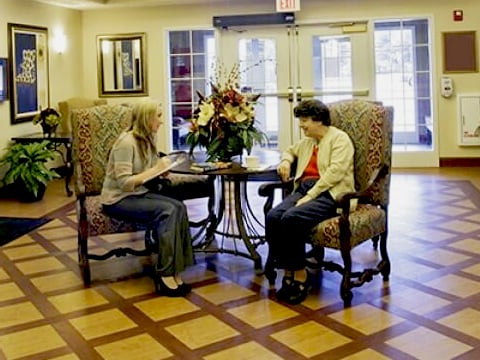 and encourages our residents to achieve the perfect balance of independence and support. Our facility includes a wide variety of amenities that make it easy for our residents to pursue their hobbies, make new friends, and remain as active as they want to be.
Our monthly event calendar features daily on-site and off-site activities such as Tai Chi classes, movie nights, trips to Niagara Falls, and multi-denominational worship services.
Our other amenities include:
An on-site beauty salon and barber shop
Fully stocked pantry with healthy snack options
Always-open fridge featuring an assortment of juices & milk
Local transportation to medical appointments and recreational outings
Fully landscaped private patios
Laundry services
Private bathrooms and resident-controlled air conditioning;
And much, much more!
Personalized Care Tailored to Each Resident
Every resident at our assisted living home has a personalized care plan to ensure their physical and emotional needs are met while at Tennyson Court. This care plan is designed to address care needs, monitor medical conditions and help optimize the health and wellness of each of our seniors. We even offer specialized memory care for residents with dimentia or Alzheimer's disease.
Our assisted living facility is fully equipped with a state-of-the-art Wanderguard System as well as in-suite emergency call buttons that can connect our seniors with ourstaff at any time. These features give both our residents and their families the peace of mind that comes with knowing help is always close at hand.
Contact Our Team Today
Contact the team at Tennyson Court today for more information or to schedule a guided tour. Find out if our Williamsville facility is the right assisted living home for you or your loved one.