Top Assisted Living Facility
Close to North Tonawanda
Finding a caring and knowledgeable assisted living for your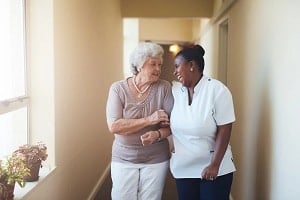 loved ones isn't easy, but it's important to take the time to find the right place. For a homey facility that you can trust near North Tonawanda, NY, call Tennyson Court Assisted Living and Memory Care.
With a warm environment, highly trained staff and all of the personalized care you're looking for, Tennyson Court makes an excellent new home.
Assisted Living That Feels Like Home
Tennyson Court is an assisted living facility that puts our residents first. We encourage care that is engaging and respectful. Visitors are encouraged, and with just a short drive from North Tonawanda, it's easy for residents to feel comfortable.
Additionally, we offer many amenities, scheduled activities and delicious, nutritious meals. It helps make residents feel at home and like a welcome part of the community.
TONS OF AMENITIES:
An on-site beauty salon and barber shop
Fully stocked pantry with healthy snack options
Always-open fridge featuring an assortment of juices & milk
Local transportation to medical appointments and recreational outings
Fully landscaped private patios
Laundry services
Private bathrooms and resident-controlled air conditioning;
And much, much more!
Contact Us Today
Contact Tennyson Court Assisted Living Facility if you're in North Tonawanda. We'll be happy to answer any questions you may have. Schedule a tour and see our facility for yourself and determine if it's the right fit for your loved one.