Assisted Living Home Serving Lancaster, NY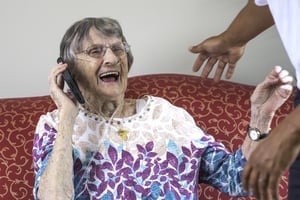 At Tennyson Court, our goal is to enhance the quality of life of all of our assisted living facility residents. We offer an exceptional range of amenities and services, and are supported by highly experienced and friendly staff members that are devoted to providing the highest standard of care. If you are looking for an assisted living home for a loved one, Tennyson Court will ensure that they are safe, engaged, and supported.
About Our ASsisted Living Facility
Here at Tennyson Court, we provide our residents with a balance between assistance with daily activities and allowing them to maintain their independence. If necessary, our staff members can provide assistance with bathing, grooming, toileting, hygiene, dressing, and medication management. Additionally, easily accessible emergency care systems, a Wanderguard system, and overnight on-call LPNs ensure the safety of residents at all times.
Exceptional Amenities, Services, and Activities
Tennyson Court offers a wide variety of amenities and services to each of our residents. These services include:
Laundry services
Weekly housekeeping
Medication delivery
3 delicious daily meals with choices and alternatives available
Snacks, tea, coffee, and fruit available all day
On-site beauty salon and barber shop
Private courtyards and patios
Transportation to local medical appointments
We believe in fostering an engaging community and keeping the minds and bodies of our residents stimulated, which is why we also offer a wide variety of activities. These include religious services, baking classes, a Men's Club, ice cream socials, and more!
Contact Us Today
If you have a loved one that may benefit from an assisted living facility in the Lancaster area, contact Tennyson Court today. We will work to ensure that our assisted living home provides the right level of care that your loved one needs. Contact us to schedule a tour today.