Memory & Dementia Care in Buffalo, NY
Help improve your loved one's quality of life as they live with Dementia by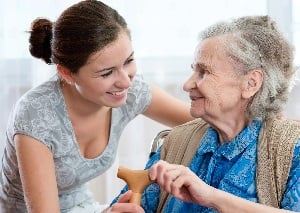 joining our assisted living community at Tennyson Court. Here, we specialize in memory care, offering our residents the highest quality of life possible despite the challenges that accompany Alzheimer's and Dementia while ensuring safety.
Focusing on combating the challenges of memory loss, we provide our dementia care residents with activities and events to improve cognitive function. We also ensure personalized care with small staff-to-patient ratios spread across three memory care houses.
Our Memory Care Homes:
Our Dedicated Dementia Care Service

Each of the memory care houses will easily feel like home for you or your loved one. Designed with comfort and safety in mind, each suite features emergency call buttons and delayed egress doors to prevent wandering. Our three memory care houses are also monitored closely by our Dementia Care Coordinator. Additionally, each resident has a personal care plan tailored to their needs. On-site medical care is available, ensuring that everyone's needs are met.
We also offer several amenities and services available for all residents to keep their quality of living the best it can be. Caring for residents isn't just about their medical care; it's also about their daily activities.
Some of Our Amenities and Services for Residents Include:
Full meals three times a day
On-site barber services
Shopping and dining trips
Laundry and housekeeping services
A monthly calendar of activities and opportunities to socialize
SEE Our Dementia Care Facility for Yourself
With all of the benefits at Tennyson Court Assisted Living and Memory Care, we're able to provide premier Dementia care in the Buffalo area. Contact us today for more information or book a guided tour to see for yourself if we're the right fit.
Our Memory Care Service Areas: