Specialized Memory Care Facility
Close to West Seneca, NY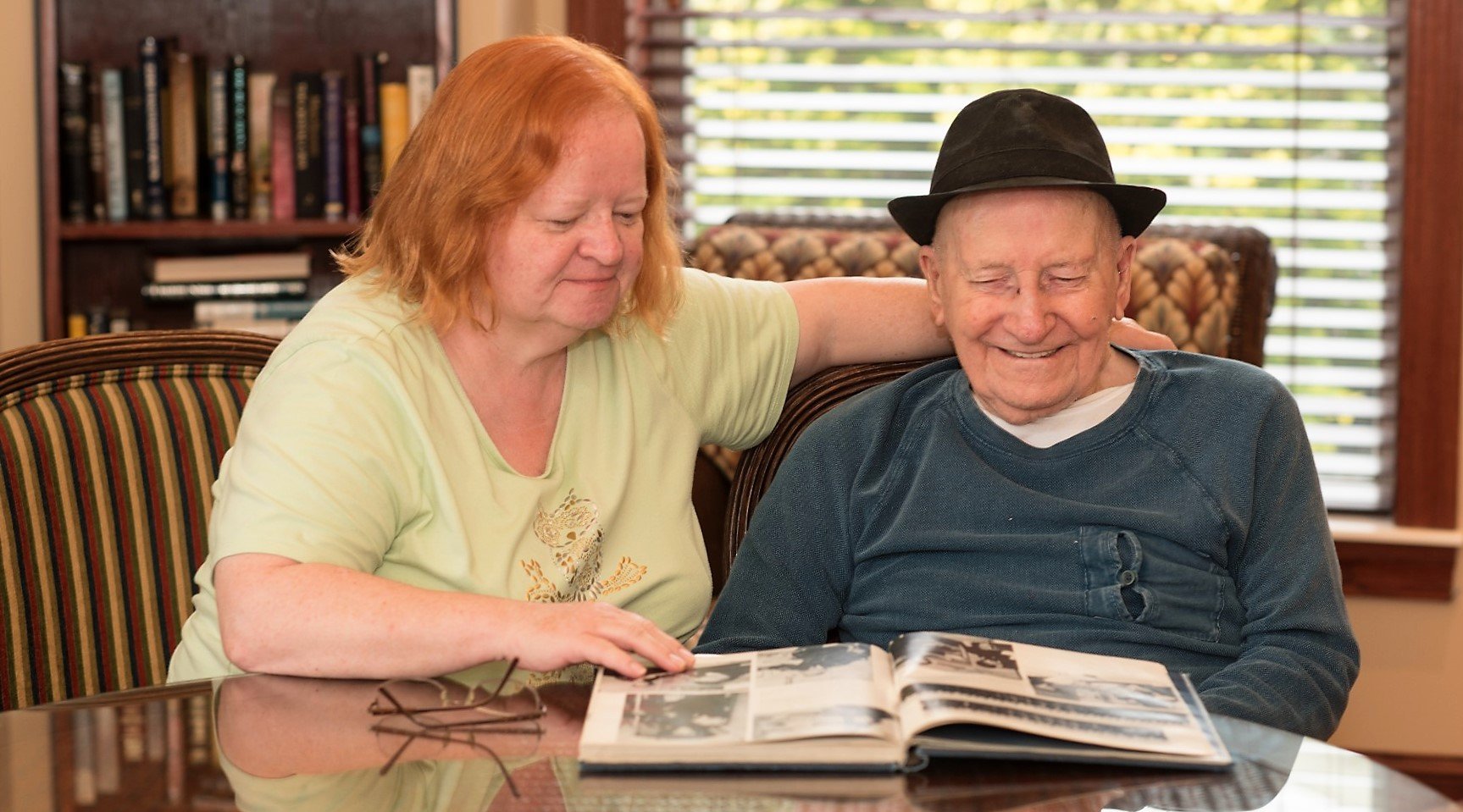 Tennyson Court offers professional, personalized memory care for our residents with Alzheimer's disease and dementia in a welcoming, modern community setting. We focus on creating a respectful, safe environment where adults with Alzheimer's disease or dementia can enjoy optimal independence and an exceptional quality of life.
Our memory care program is customized to the unique needs of every resident, starting with our research-based case management and care plans. And for more personalized care, we offer three distinct memory care houses specifically for residents of this program—Oxford, Hampton and Langley.
SEE A OUR FACILITY FOR YOURSELF
A safe care home for youR loved one
At Tennyson Court, you can rest assured that your loved one will be well taken care of, feeling at home among our other residents and trained nursing staff. We pride ourselves in providing all of the services and care our residents could need - beyond our excellent, caring staff. From meals to medical management to routinely scheduled activities, your loved one will have a comfortable home to provide them with the necessary memory care. Learn more about our facility.
Modern, Well-Maintained Dementia Care Facility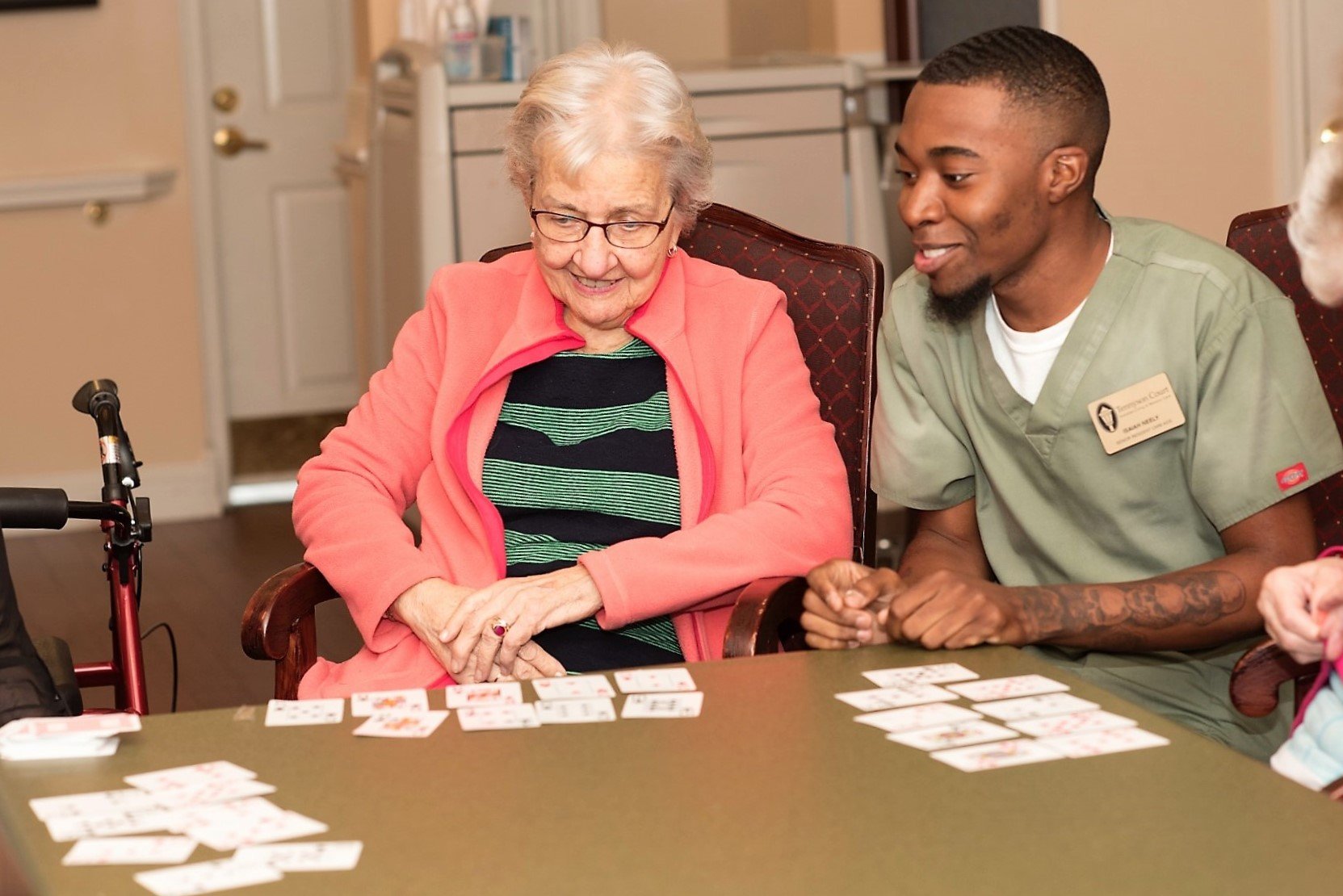 At our dementia care home, Tennyson Court offers all the amenities and services you'd expect to find in a progressive, well-appointment senior facility.
At our facility, we ensure that our memory care residents are safe and secure in all aspects. We provide several safety features including delayed egress doors, a Wanderguard System and an emergency call system so you can trust your loved one is well looked after. We also offer medication management, an on-site podiatrist, optional on-site medical services by Mobile Primary and much more.
Resort-Style Memory Care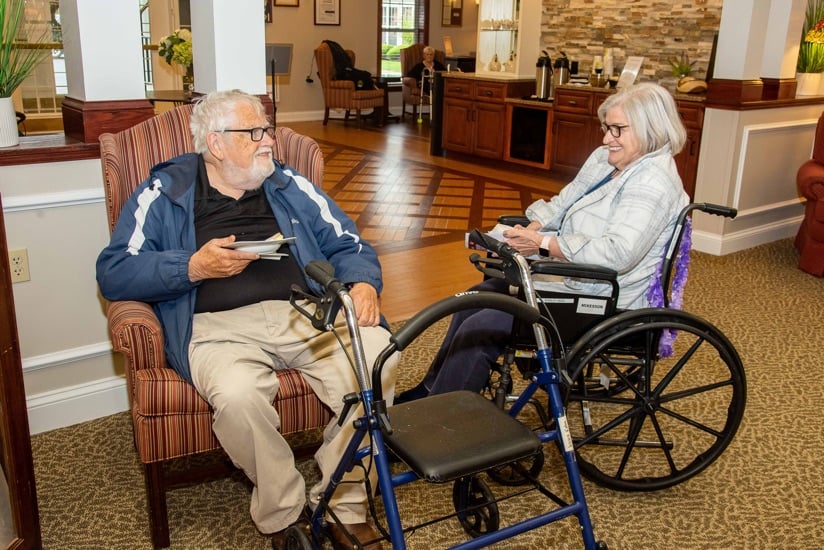 At Tennyson Court, we maintain an active calendar of events that includes daily exercise groups, games nights, religious services and even escorted outings within the community. We encourage our seniors to make friends, stay active and pursue the hobbies that they enjoy the most so that they're able to live a complete life in a safe space.
Three well-balanced meals are served daily in our restaurant-style dining rooms, and hot tea, coffee and healthy snacks are always available. We have an on-site beauty salon and barber shop, and weekly housekeeping and room-by-room laundry services are included to make your loved one feel comfortable and cared for.
Additional Features that Make Tennyson Court Memory Care Feel Like Home:
24/7 Supervision and Care
Medication Management
Weekly Housekeeping and Room-by-Room Laundry Services
Partner Pharmacy – We Order and Manage Medication Delivery
Resident Activities Throughout the day and weekends
Lunch and Shopping Trips
Emergency Call System
Private and Secured Patios and Courtyards
Personalized Care Plan
Memory Boxes (these are decorated to help the resident identify their room)
On-Site Beauty Salon/Barber Shop
Our amenities and features focus on helping our memory care residents live their best lives. Our residents with dementia can be trusted to be well cared for while joining a community that makes them feel at home. When finding a specialized, caring community for your loved one, trust they're in good hands at Tennyson Court.
For More Resources on Alzheimer's Disease and Dementia
It's important to understand healthy ways to support family members or friends with Alzheimer's and dementia, whether at home or in a specialized facility. You can learn more about how to approach Alzheimer's and Dementia care through our articles below.
Find a Specialized Home for Your Loved One Today
If you're in the West Seneca area and would like to schedule your personal tour of our modern, fully licensed memory care facility, contact us today. We're happy to answer any questions about our dementia care programs, all-inclusive services and personalized care for residents.