Amherst, NY Senior Care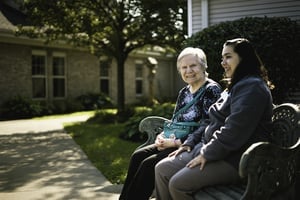 Whether you're looking for a loved one or for yourself, at Tennyson Court we're committed to making any experience in a senior living community comfortable and stress-free. Senior care needs to be carefully selected, ensuring that every need will be met through the staff and facilities in Amherst. We always recommend coming to visit our campus for a tour to see whether we are a great fit for your family.
Our Services


At Tennyson Court, we provide daily care that incorporates security and independence in our assisted living and enhanced assisted living care homes.

This flexible care option is available at Tennyson Court to bring relief to overburdened caretakers through temporary respite stays.

In designated residences on our campus, we offer Alzheimer's or Dementia memory care. Learn more about our program today!

We provide comprehensive and healthy dining options, accessible transportation, and engaging activities for all of our residents.
Contact Us To Schedule Your Personal Tour
To learn more about our senior care facility in Amherst, contact us today. We're happy to answer any questions you have about our senior care services!

Contact Us