Enhanced Assisted Living Facility in Amherst, NY
Providing the Level of Care You Need
To better serve residents at Tennyson Court, we provide enhanced assisted living services to our community. As a licensed, New York State Enhanced Assisted Living Residence, our staff and facility are prepared to deliver the level of care needed beyond the scope of assisted living services. With a set of rigorous standards, we strive to offer the highest level of care available in Amherst, NY.
Benefits of Enhanced Assisted Living Care
Residents who choose enhanced assisted living care are given greater assistance for medical needs. This includes help with using medical equipment, getting in and out of bed, or transferring from a wheelchair. However, it is crucial to understand that enhanced assisted living care offers greater independence than skilled nursing care. From scheduling the time of personal care, making their meals or joining communal events, residents largely remain independent. All things considered, enhanced assisted living frees our members from worrying about smaller concerns so that they can enjoy more peace and comfort during their stay.
Contact Us Today!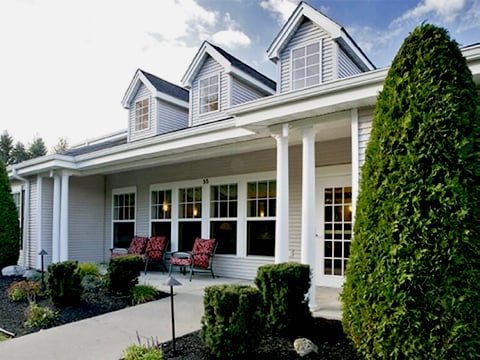 To see all that we can offer, we recommend visiting our community for yourself! You can schedule a tour to view the different aspects of our campus and see if we would be the perfect fit for your loved one. To learn more about Tennyson Court's Certified Enhanced Assisted Living Care services in Amherst, give us a call today!