Exceptional Senior Care
Located Close to Lancaster, NY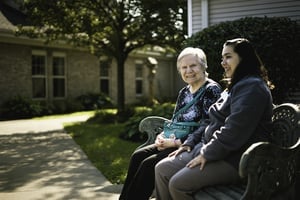 At Tennyson Court, we provide professional senior care services in our assisted living and memory care facilities, located close to Lancaster, NY. We have a highly attentive and compassionate staff that supports residents throughout the day. Your loved ones will receive the assistance they need, including in grooming, bathing, dressing and other daily tasks. Understandably, transitioning into receiving care through assisted living can seem uncomfortable and unfamiliar for new residents. However, at Tennyson Court, we do our best to welcome every individual into our community, helping them find new friends and enjoy their time here.
Our Senior Care Services


At Tennyson Court, we seek to further improve the quality of life and independence of residents under our assisted living and enhanced assisted living care.

Respite care is a short term option available at Tennyson Court that is ideal for caregivers who need temporary assistance.

Our Memory Care Program provides individuals with Alzheimer's or Dementia with specialized attention in separate residences within our campus.

We offer comprehensive and comfortable dining services, transportation, and activities for all of our residents.
Home-Style Assisted Living at Tennyson Court
At Tennyson Court, we have designed our campus carefully, filled with warm elements that help residents call our facility home. From welcoming staff to comfortable living spaces, we work hard to maintain our facilities to high standards of cleanliness and beauty. We strive to provide dedicated care that goes above and beyond what our residents need.
In addition to our exceptional care, our senior care facility offers many amenities to help your loved one continue to live a full life and maintain a high quality of life. Some of these features include:
Monthly activites schedule
Personalized care plans
Excellent patient to staff ratios
Highly skilled and trained nursing staff
Homey feeling dining services
A warm and inviting community
And more!

Contact Us Today
If you are looking for a senior care facility near Lancaster, please visit Tennyson Court. We are ready to answer any questions you may have so that you can learn about all the ways we can help your loved one. Learn more about our facility and the services we offer by scheduling a tour or giving us a call today!
Find out if we're the right fit for your loved one.

Contact Us