Williamsville, NY, Senior Care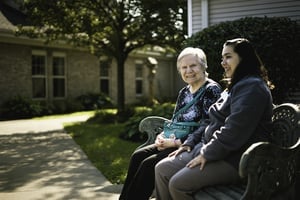 Tennyson Court offers dedicated senior care in the form of assisted living and memory care services. Our assisted living facility provides care for seniors around Williamsville NY. Depending on the level of care, our staff may assist with daily needs including grooming, bathing, dressing, and more. Transitioning from independent living to a care facility is a significant adjustment that can be difficult for many. However, at Tennyson, we do our best to welcome every resident and help them find a healthy community to be part of.
Our Services


At Tennyson Court, we seek to further improve the quality of life and independence of residents under our assisted living and enhanced assisted living care.

Respite care is a short term option available at Tennyson Court that is ideal for caregivers who need temporary assistance.

Our Memory Care Program provides individuals with Alzheimer's or Dementia with specialized attention in separate residences within our campus.

We offer comprehensive and comfortable dining services, transportation, and activities for all of our residents.
Home-Style Assisted Living at Tennyson Court
At Tennyson Court, we do our best to make our community feel like home. From welcoming staff to comfortable living spaces, we have carefully designed our facility to be a warm environment for every resident. We treat those in our care with the utmost dignity and respect. Our goal is to help everyone enjoy a fulfilling and safe livelihood as they stay with us.
If you are in search of a high-quality senior care facility, please visit Tennyson Court Assisted Living & Memory Care. We invite you to visit us for a tour and learn about all the exciting ways we care for our residents. Learn more about our facility and the services we offer by scheduling a tour or giving us a call today!

Contact Us