Assisted Living Facility In Williamsville, NY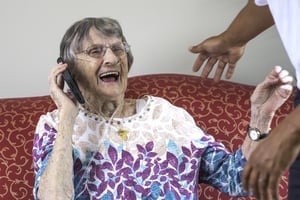 If you are looking for an assisted living home in Williamsville, NY for a loved one, Tennyson Court offers a safe, comfortable community for your family. Our modern, welcoming assisted living facility gives residents the ideal mix of support, supervision, and independence, complete with the highest quality amenities and services.
Our assisted living facility is designed with our residents in mind. Naturally, we provide professional care, but having a building designed strategically helps to make difference in the quality of care. We understand that the decision to move your loved one to an assisted living facility can be extremely difficult. Which is why we do all we can to help make the transition as easy on everyone as possible.
Our Care Team
Our friendly, experienced staff members are all committed to providing our residents with compassionate, professional care. We're proud to offer one of the highest staff-to-resident ratios among all senior care facilities in the area, and our staff team includes personal support workers, activation specialists, dietary aides, and nurses.
Community Activities and Outings
Here at Tennyson Court, we offer a full calendar of activities to encourage our residents to make new friends, stay active, and engage in their community. Our seniors enjoy regular free weekly trips to local Williamsville restaurants, stores and area attractions such as the casino, and our activity team hosts daily on-site groups at our assisted living facility.
Residents are encouraged to participate in our daily exercise classes, play trivia games in our common areas, and enjoy our ice cream socials, movie nights, and gardening club. We also have regular in-house religious services at our community center, and complimentary transportation to medical appointments is available upon request.
Our Specialized Senior Care Services
At our assisted living home, we work hard to create a warm, inviting environment for our residents. Our facility has been built with a number of specialized features, including in-room emergency call buttons, barrier-free bathrooms, and a restaurant-style dining room where each day residents enjoy three balanced meals.
Care and support are available 24 hours a day, 7 days a week, and we can provide seniors assistance with medication management, bathing, and toileting.
Contact Us Today
To learn more about our wide range of services and senior-friendly features offered at our assisted living facility, contact us today to schedule your personal tour.

Contact Us