Getzville, NY Senior Care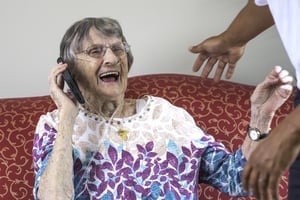 Providing senior care to an aging parent or loved one can stretch a family thin while balancing daily responsibilities and commitments. Especially if your loved one also lives a distance away, it can be even more challenging to provide daily care. At Tennyson Court, we offer senior care for loved ones in a secure community located only 7 miles away from Getzville. Family members often come to visit their loved ones at Tennyson and have greater peace of mind knowing that all their needs are being met at our campus. Learn more about our senior care services below:
Our Services


At Tennyson Court, we seek to further improve the quality of life and independence of residents under our assisted living and enhanced assisted living care.

Respite care is a short term stay at Tennyson Court that is ideal for caregivers who need temporary assistance.

Our Memory Care Program provides individuals with Alzheimer's or Dementia with special care plans in distinct residences within our campus.

We offer comprehensive services covering dining, transportation, and activities for all of our residents.
Personalized Senior Care At Tennyson Court
At the heart of the senior care services at Tennyson Court, you'll find personalized attention for your loved one. Each of our residents has an individual care plan in place which is reviewed monthly to evaluate and adjust care as necessary. We strive to help our residents realize their full potential while they're in our care.'
If you have a loved one in Getzville who may benefit from a safe and supportive environment that allows them to maintain their independence, consider Tennyson Court. Contact us today for additional information about our senior care services.

Contact Us