East Amherst, NY Senior Care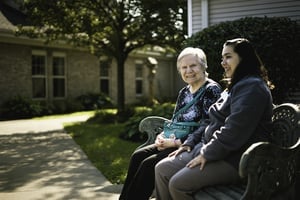 Whether you're looking for a loved one, here at Tennyson Court we're committed to making the transition to a senior living community simple and stress-free. We understand that you have questions about us and our services - that's why we encourage you to visit us, meet with our care manager, and explore our wide variety of services.
Personalized Senior Care
At Tennyson Court, we provide a variety of senior care options extending from assisted living to specialized dementia care. Our different rooms are designed to provide seniors with an ideal mix of support and independence. Each one of our residents is assigned a personal case manager who works together with family members, medical providers, and caregivers to develop a personalized care plan prior to admission to our senior living home.
Once a resident has settled into our facility, we continue to review and revise their care plan regularly to ensure all their needs are being met in a way that is both respectful and responsible.
Our Services


At Tennyson Court, we offer assisted living care to residents who need additional support with daily routines, this also includes enhanced assisted living care homes.

This flexible care option is available at Tennyson Court to offer relief for primary caretakers during temporary respite stays.

Within designated residences on our campus, we house residents with Alzheimer's or Dementia in memory care homes. Learn more about our program today!

To provide exceptional senior care to our community, residents enjoy a wide variety of inclusive services in their daily care at Tennyson Court.
Schedule A Tour Of Tennyson Court
To learn more about our senior care facility near East Amherst, contact us today. We're happy to answer any questions you may have about our senior care community!

Contact Us