Enhanced Assisted Living Facility in Orchard Park, NY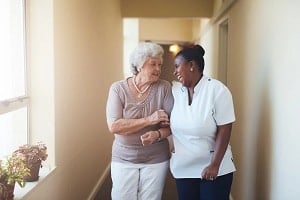 Providing the Level of Care You Need
To fully accommodate the needs of our residents at Tennyson Court, we provide enhanced assisted living services. As a licensed, New York State Enhanced Assisted Living Residence, our staff and facility are prepared to deliver a higher level of care needed beyond what assisted living services offers. Following a set of comprehensive standards, we strive to offer the highest level of care available in Orchard Park, NY.
Benefits of Enhanced Assisted Living Care
The primary responsibility of enhanced assisted living care is to provide residents with greater assistance for their medical needs. This includes help with using medical equipment, getting in and out of bed, or transferring from a wheelchair. Compared to skilled nursing care, enhanced assisted living does not offer as much specialized treatment and dependence. Instead, residents can schedule their times of personal care, make their meals or join communal events, with relative independence. All things considered, enhanced assisted living frees our members from worrying about covering their daily needs so that they can enjoy more peace and comfort during their stay.
Contact Us Today!
To see all that we can offer, we recommend visiting Tennyson Court for yourself! You can schedule a tour to explore all the parts of our community and see if we would be the perfect fit for your loved one. To learn more about Tennyson Court's Certified Enhanced Assisted Living Care services in Orchard Park, give us a call today! We are happy to answer any questions you have.