Enhanced Assisted Living Care in Grand Island, NY
Providing A Higher Level Of Care
If you are already familiar with assisted living care services, you may wonder how different enhanced assisted living can be. At Tennyson Court, our New York State licensed enhanced assisted living residence expands the care we offer to our residents to include additional medical support. In securing our licensing, our staff has completed advanced training to equip Tennyson Court for this greater level of care. If your loved one requires the support of an enhanced assisted living facility near Grand Island, book a tour at Tennyson Court!
Benefits of Enhanced Assisted Living Care
From needing extra help getting into and out of bed or with wheelchair transfers in different areas, enhanced assisted living covers a number of different types of care. Our team can also assist with medical equipment management that requires a deeper level of knowledge or involvement. At Tennyson, Enhanced Assisted Living includes supervision from our resident coordinators who remain highly attentive with daily care in our community.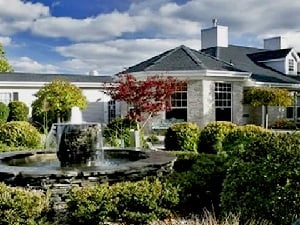 Additional Services Offered:
One-Person Assist with Transferring and Ambulation
Wheelchair Transfers
Oxygen Management
Daily Vitals Monitoring
CPAP and BiPAP Assistance
Foley Bag and Ostomy Pouch Management
Contact Us Today!
To learn more about our residences and services, you can schedule a tour with one of our knowledgeable guides. We are always happy to provide useful information for a family searching for the right senior care solution. Call us today for more information on certified enhanced assisted living care at Tennyson Court!