When Should Someone with Alzheimer's Go into a Memory Care Facility
Tuesday, February 28th, 2023
Few things are more difficult and provide more challenges than a loved one aging. There is a lot to consider as their memories may be starting to fail as well as their ability to care for themself.
And if your loved one has Alzheimer's disease or another memory condition, there may be an added challenge. You may be wondering if it's time to find a specialized memory care facility for your loved one.
5 Signs it's Time to Find a Memory Care Facility
When considering if it's time for your loved one with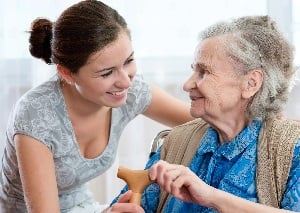 Alzheimer's to go to a memory care facility, take into account their current daily routine and home, and how their disease is progressing.
1. It's No Longer Safe at Home
It's important to consider if the place your loved one calls home is still safe for them. People with Alzheimer's disease often put themself at risk. There is potential for them to wander out of the house, leave pans on the stove or even slip and fall.
Under these circumstances, it's easy for your loved one to experience an accident. Many safety features are required as well as a large amount of supervision at all hours of the day.
2. A Caretaker isn't Available to Stay at Home
It's a lot of work to be a caretaker to someone with Alzheimer's. Whether the caretaker is a hired professional or a loved one, it's ideal to have someone with them throughout the day.
This can be quite a strain on family finances, time and emotional labor as it can be quite draining. If a caretaker is no longer available, it's a good idea to look outside of the home for support.
3. The Caretaker is No Longer Equipped to Provide the Required Care
Providing care is more than just physical labor. It can be a large emotional burden – especially when it's a family member. If it's become too much, it's better than to find another caretaker source.
4. Your Loved One with Alzheimer's Feels Alone
Alzheimer's can be an isolating experience for your loved one. When cared for at home, it may be difficult for your loved one to feel connection or interact with the community. This can deplete their quality of life.
Moving your loved one to a memory care facility can provide a community for your loved one as well as social interaction and activities to keep them engaged and entertained throughout the day.
5. Your Loved One is Refusing Care
As Alzheimer's progresses in a patient, they may forget and begin to protest and refuse the care provided to them. This provides a challenge to caretakers as they are unable to offer the care needed. This is only amplified when paranoia is present.
To avoid these challenges, it may be best to find a place more qualified in treating your loved one.
Finding a Facility
Once you decide it's best for your loved one to move to a memory care facility, it's time to find the right facility for them. As the decided facility will become their new home, it's important to take the time to find the right one.
You'll need to take the time to make sure that your loved one will provide the care they need while being comfortable and at home.
About Memory Care Facilities
A memory care facility is an assisted living community that offers specialized memory programs for those with Alzheimer's disease and dementia. Prioritizing safety, comfort and care designed to focus on the challenges and needs of those with Alzheimer's, memory care facilities aim to improve the quality of life for every resident.
There are several key features you'll want to look for to make sure it's the best fit for your loved one.
Features to Look For:
Safety features in case of wandering
Medication support and management
On-site nursing
A caring community to help feel at home
Care and supervision available 24/7
Meal assistance
Help with hygiene, grooming and bathing
In addition to these basic features, you should also consider their comfort on a personal level. There's things like activities scheduled, visits from family and trips outside of the facility that may be important for your loved one to have access to.
These are all things available at Tennyson Court Assisted Living and Memory Care.
Contact Tennyson Court to Learn More
Located in Williamsville, NY, Tennyson Court Assisted Living and Memory Care is an exceptional memory care facility. To learn more about the care we provide or to schedule a guided tour to see our facility yourself, contact us today.