The 9 Things to Expect From a Memory Care Facility
Friday, August 25th, 2023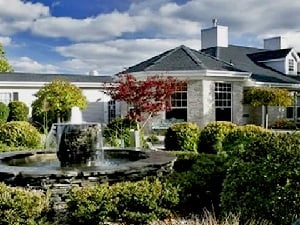 Moving your loved one to a memory care facility is a difficult decision. There are many things to consider, especially as dementia or Alzheimer's disease can provide further challenges in the care they require. It's important that you find somewhere that meets their unique needs and cares for them like they would care for a member of their own family.
But when looking for a memory care facility, what's realistic to expect?
What to Expect?
When looking for a memory care facility for your loved one to call home, there are nine main things you can expect and look for.
Safe and Secure Environment
Specialized Staff
Structured Daily Activities
Personalized Care Plans
Therapeutic Design Elements
Family Support and Involvement
Medical Monitoring and Care
Nutritional Meals
A Sense of Community
When all of these things come together, you have a welcoming memory care facility sure to help residents live comfortably, maintaining dignity and quality of life.
1. Safe and Secure Environment
Safety is paramount. Due to Alzheimer's and dementia, all memory care facilities should be equipped with various safety features to ensure that residents are well looked after. This comes in the form of secure doors, emergency call systems and other alarms, protecting residents from wandering too far.
2. Specialized Staff
In addition to enhanced safety features, highly trained staff is essential. The staff should be prepared for the different needs and challenges of memory care residents and be full of kindness and compassion while working with them.
The team looking after your loved one should understand the unique needs and behaviors of residents with cognitive impairments. This will manifest in patience and knowledge. To be prepared for this, the team at Tennyson Court are all highly trained.
3. Structured Daily Activities
While there is no cure for these cognitive impairments, routine is something known to help them. Several activities can help improve people's memories. It's important that you find a facility providing these to your loved one.
At Tennyson Court, we apply both of these to help our memory care residents. We also have regularly scheduled activities throughout the month that our memory care residents can participate in with our assisted living residents, building a sense of community.
4. Personalized Care Plans
Personalized care plans are important to ensure your loved one is treated like a unique individual with needs different from others. In these plans, they address daily routines, dietary requirements and medical needs.
At Tennyson Court, every resident has a care plan developed shortly after arrival. It's also regularly evaluated to ensure it's up to date.
5. Therapeutic Design Elements
The design of the facility itself plays a crucial role in the well-being of its residents. Memory care facilities often feature calming colors, clear signage and secure outdoor spaces. These design elements promote comfort as well as safety.
6. Family Support and Involvement
Memory care facilities understand the emotional toll memory diseases can take on families. Because of this, many facilities encourage family visits, and some even offer special events or programs where families can actively participate.
At Tennyson Court, we encourage visits to help your loved one feel their best.
7. Medical Monitoring and Care
One of the biggest advantages of choosing a facility for your loved one is their ability to monitor your loved one in a way you're unable to at home. Most memory care facilities are equipped to manage health issues different from the cognitive challenges these residents experience. This includes medication management, routine health check-ups and easy access to medical professionals.
All of these are things that you can count on at Tennyson Court.
8. Nutritional Meals
An important part of healthcare is diet. Residents at memory care facilities need to receive regular, balanced meals. Whether it's picky eating or forgetting altogether to eat memory care staff is able to handle it, ensuring dietary needs are met.
At Tennyson Court, we do all of this. We also have tea, coffee and nutritious snacks available at all times of the day so no one goes hungry.
9. A Sense of Community
One of the most important parts of a memory care facility is the sense of community. Serving as home to your loved one, it's important that they feel welcomed as they continue onto the next stage of their life. With group activities, shared dining and communal lounges,
Tennyson Court proudly provides all of these things and places an emphasis on creating an inviting community.
Find a Memory Care Facility for Your Loved One
As you look for finding the right place for your loved one to spend the next years of their life, keep in mind these nine things. Common in many facilities, they may not be found in all of them.
If you're in the Western New York area, you can consider Tennyson Court. Focusing on meeting all nine of these things, you can count on our team to make your loved one feel at home while meeting their needs.
Contact us to learn more or to schedule a guided tour.