Communication is KEY
Friday, February 10th, 2017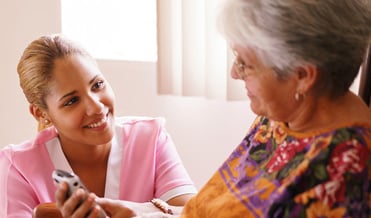 If you're a caregiver for someone who suffers from dementia, you've probably noticed that it isn't always easy to communicate with them effectively. Individuals with dementia and other brain diseases often lose some of their ability to understand and participate in conversation. As caregivers, the best thing you can do is to understand how and why this happens and do your best to work through it.
Understanding Dementia
Dementia is a degenerative disease, which means it slowly degrades the mind and its ability to function properly. Over time, you may see your loved ones lose motor ability, memory, communication skills and a range of other important bodily functions.
Your loved one may struggle to comprehend what you're saying to them in a conversation, not because of a loss of hearing, but because their brain simply prevents them from processing your speech. They may also fail to properly express themselves, either through the use of incorrect words or through incorrect pronunciations. This is all caused by dementia's slow wearing away of brain cells and mental function.
Careful Communication
The presence of dementia with your loved one may significantly affect your ability to communicate smoothly with him or her, but approaching the situation carefully can make a world of difference. If your loved one is struggling to understand you, try speaking more slowly and clearly, but don't get frustrated with the situation. Try to minimize background noises like TVs or radios, and take your time when talking. It's easy to just ignore the person in group conversations because of their inability to understand, but that can just make the problem worse. By having the right attitude about the way you communicate, you can keep their attention focused more easily and keep them engaged in conversations.
Our Approach
At Tennyson Court memory care facility, we take careful steps to understand how dementia can affect the lives of our residents, and we enjoy working with them to get through the challenges. It's not always easy, and dementia can be a very frustrating condition for residents and caregivers alike, but through positive attitudes and attentive care, our staff helps residents converse and communicate as smoothly and effectively as possible.