Tonawanda, NY Assisted Living Home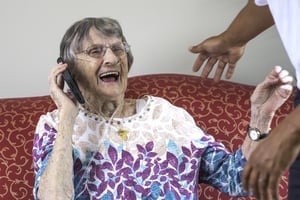 Tennyson Court's assisted living facility is designed to improve the quality of life for your aging loved one. Our facilities are designed for seniors with a strong sense of independence and the ability to maintain a healthy lifestyle, but who could also benefit from having assistance with their day-to-day needs. Our senior care facility provides personalized care and case management for each resident, which helps ensure that Tennyson Court is providing a safe and supportive environment for all.
Our Assisted Living Home AMENITIES
All residents of Tennyson Court enjoy comfortable living quarters set within our beautiful facility. We also provide transportation to and from nearby doctor's appointments, 3 nutritious and balanced meals each day. as well as a full monthly calendar of activities and events designed to encourage a healthy social life at Tennyson Court. These trips include, but are not limited to, lunches, dinners, and even trips to the casino!
Available Services
Each resident of our assisted living facility enjoys access to a wide array of services while residing within our community. This includes help with life's simple, daily activities such as providing a fully-stocked household pantry that's always available, an on-site beauty salon/barbershop, room-to-room laundry service, weekly housekeeping of personal quarters, and much more. Visit our inclusive services page for more information.
Our staff also offers assistance with hygiene, grooming, bathing, and medication management. We also have overnight on-call LPNJ service and provide basic on-site medical services through Mobile Primary Care. No matter your loved one's level of independence, Tennyson Court can help ensure they enjoy a safe and happy environment on a daily basis.
Contact Tennyson Court For Assisted Living
If you're considering an assisted living home for a loved one in the Tonawanda area, give us a call. Contact us for additional information about our extensive senior care services today.